Dental implants look and function just like natural teeth. This allows patients to speak and smile with confidence. Dental implants also restore function, meaning the ability to eat normally.
Dental implants are made of small titanium screws that serve as a replacement of the root's portion of the natural tooth. The screw is placed in the jaw bone. Either single or multiple teeth can be replaced in this way.
At Richmond Centre Centre we are proud to place implants made by the leading implant manufactures. We use Nobel Biocare, Astra and Implant Direct systems.
We have a high success rate of 98% with over 350 dental implants placed successfully.
0% Finance Available
0% Finance available for dental treatment in East Sheen, Richmond, London
We offer the following implant treatments:
30-Minute discussion with one of our dentists
About using dental implants to replace missing teeth
SINGLE TOOTH REPLACEMENT
Current science supports valid evidence that dental implants are a better solution to other treatments such as conventional bridges or dentures.
In case of a bridge, the missing tooth replacement needs to be bonded to the adjacent teeth. That type of restoration might compromise the adjacent teeth, the teeth might need to be trimmed down. There is the additional issue of placing the unnecessary pressure and weight on the adjacent teeth not to mention the additional risk of bridge de-bonding. This happens often when there is a strong bite.
Similarly a denture can destabilise adjacent teeth and move during eating or speaking.
A dental implant has the benefit of functioning as an independent item and not having to rely on adjacent teeth. It has the additional benefit of stimulating the bone to stay and get stronger. Either bridge or a denture is not able to provide that.
MULTIPLE TEETH REPLACEMENT
In cases where more than one tooth is missing a multiple implants can be placed in the same jaw bone.
It is worth noting that in general it is more suitable to keep natural teeth separate from implants as implants are rigidly attached to the bone but natural teeth move very slightly as these are being supported by periodontal ligament in the bone. Periodontal ligament is a form of suspension and a shock absorber for the natural dentition.
Groups of missing teeth can be replaced with a bridge supported by dental implants. One of the examples could be a replacement of three teeth in one quadrant of the mouth. The heavier the biting forces the more implants are necessary. The advantage is not having to prepare the adjacent teeth to support the bridgework.
The benefit is such that the construction of implant supported bridge does not rely on the remaining dentition.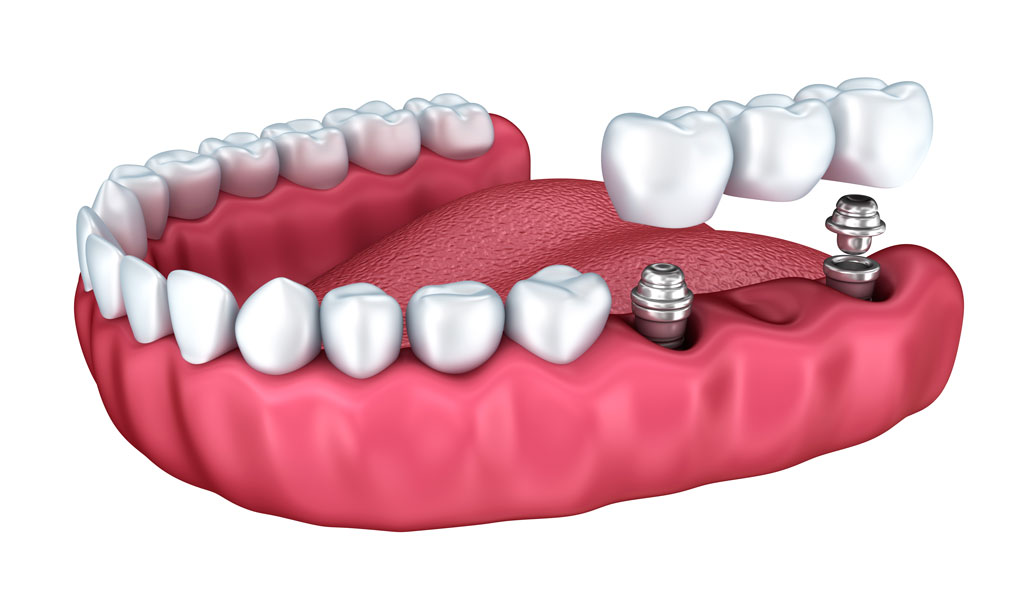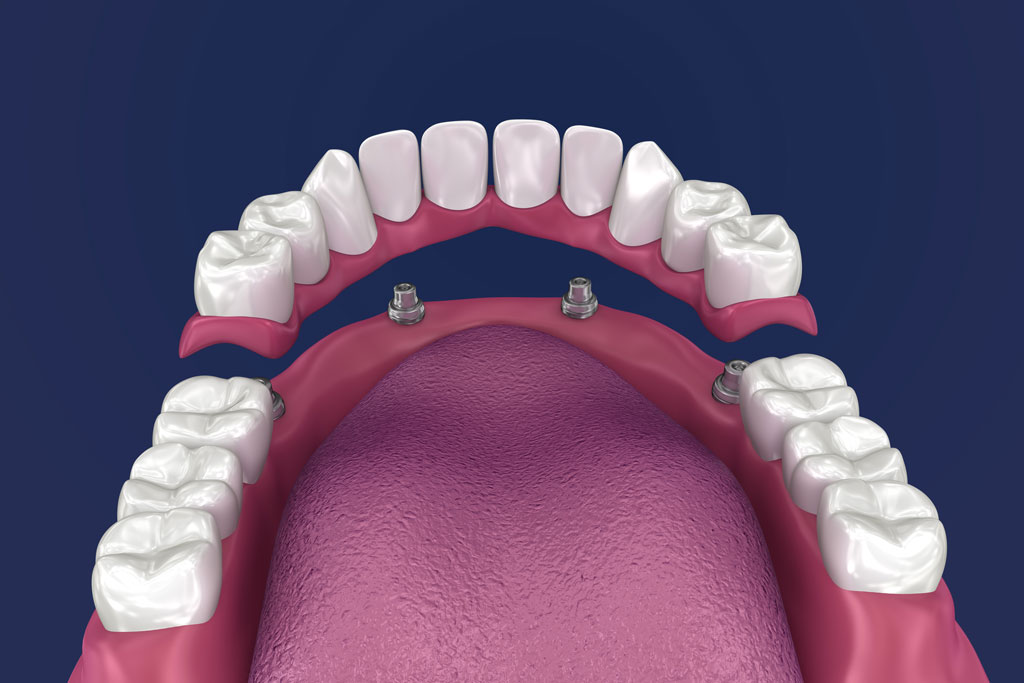 DENTURES: stabilising dentures with implants
Loose dentures can be stabilised with either two or three implants in the lower – bottom – jaw. In the upper jaw – top jaw- this can be achieved with a minimum of four implants.
The "clip on" mechanism allows dentures to be secured and safely positioned.
This option is usually more cost effective than fixed bridgework.
Frequently patients upgrade to fixed bridgework from dentures after a while. Patients find that dentures "can age" sometimes and may alter speech a little. However it is a very good alternative in cases where budget is constrained. What's the next step?
To find out how our skilled dental implant dentist can help you to eat better and feel more comfortable, call us today to book your consultation.
Fixed Bridgework
Implant supported bridge looks very similar to a conventional dental bridge. The difference is that it is fully supported by implants only.
Frequently, in case of implant supported bridge, one implant is placed in the jawbone for each missing tooth. Then the crowns are joined together to form a continuous piece.
In other cases the implants might be placed at a small distance to each other to suspend a bridge over the area with insufficient bone presence etc.
When is it used?
When more than one tooth is missing
When there is a risk that the patient is clenching or grinding the teeth putting too much pressure on individual implants in the bone. The bridgework is there to protect the implants and spread the heavy bite forces into the entire structure.
When there isn't enough bone in the jawbone or the location is too close to a nerve or a sinus cavity in the upper (top) jaw.
Typically four to six implants are required to support entire dental arch. Where the bone is limited, it may take just four dental implants. If plenty of jaw bone is available, more implants may be placed to support a series of smaller bridges or individual teeth where aesthetics play a role.
All-on-4
Developed in the 1990s this revolutionary procedure uses just four implants where the bone of the jaw is most dense. The 4 implants are placed at a specific sites and specific angle to support a bridge of 12 teeth. The temporary bridge is then attached on the same day so patient is never left without the teeth.
After approximately 5/6 months when the healing took place in the jaw and implants have integrated with the bone, a titanium based permanent bridge is fitted.
This solution is ideal for patients who have lost teeth over the years and had to suffer ill fitting dentures as a result.
To arrange an initial examination and consultation, contact us at [email protected] or telephone on 020 3441 8182.
BONE GRAFTING
Where he tooth or teeth were extracted a long while back, bone loss may occur. In areas where bone is thin or too soft the bone graft might need to be placed in order to secure and hold the implant. If the bone cannot support the implant, it may cause the digitally placed implant to fail.
How is the procedure carried out?
In cases where a lot of bone is missing, it may be possible to rebuild it using it the bone material from another part of the body. This usually requires a short hospital procedure.
However, in a case where a smaller section of the bone is missing, the surgeon can place a special bone grafting material.
We use a material which allows the cells of the body to remodel the graft into a normally functioning bone. After a few months restored jaw will have enough bone thickness for a placement of a dental implant.
The advantages are
Relatively readily available bone substitute
No second surgical site
Clinically proven effectiveness
Great track record of safety
Typically it takes approximately 6 moths before implants can be placed after the bone graft placement. Please enquire with one of our clinicians to ask about bone grafting.
SEDATION
This service is available for all surgical procedures.
Patients wishing to use this service will require pre assessment with the relevant dentist who is qualified to deliver IV – intravenous sedation. IV sedation induces a state of deep relaxation and a feeling of calm. Whilst patient remains conscious and is able to respond to the team.
Please contact us for a conscious sedation assessment via email at: [email protected] or telephone us 020 3441 8182.
Please make sure you have a list of all medications you take for the consultation.